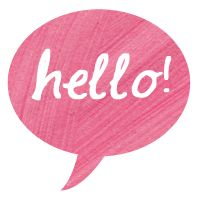 Since I joined the world of smartphone owners last year I have been using social media networks more and more. I have accounts with a few but the two I use most often are
Twitter
and
Pinterest
.
Twitter is brilliant for staying in touch with friends, keeping up to date on the news (I tend to find out about most things from Twitter these days) and for connecting with some awesome creative and like minded people. It is also a great way of sharing your work with another audience.
Pinterest is fast becoming my favourite social media network. It works like a mood board where you can virtually pin great images. It is one of those things that, if you're not careful, can rob you of your time. It is far too easy to get sucked in and you end up spending far too much time on there. It is a fantastic source of inspiration and a quick and easy way of collecting everything together in one place.
Kim Lawler of
Finest Imaginary
wrote a great post on
10 awesome easy ways to use Pinterest for your website
, which is well worth a look.
I also have a
Facebook
page for my illustration work but as I am not a huge lover or user of Facebook on a personal level I have been struggling getting to grips with how to use it to get the best out of my page. It is definitely a work in progress.
If you would like to take a peek at any of the above you can follow the links in the sidebar.
How about you? Which is your favourite? And how do you use it?